Back To Media
Francisco Partners Named to Inc.'s 2022 List of Founder Friendly Investors
News and Awards — Oct 04, 2022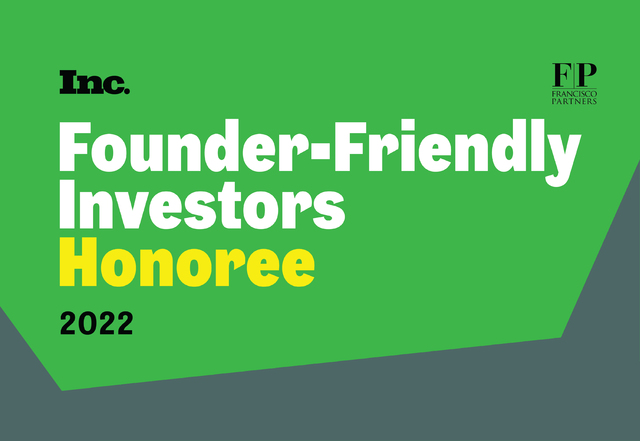 SAN FRANCISCO - Francisco Partners, a leading global investment firm specializing in partnering with technology businesses, was named to Inc.'s 2022 Founder-Friendly Investors list. This recognition stems from Francisco Partners' twenty-plus year track record as a trusted partner backing entrepreneurs and management teams looking to scale their technology companies.
Francisco Partners has invested in more than 150 founder-owned businesses including GoodRx, Qgenda, Dyanmo, Veson Nautical, MyHeritage, CoverMyMeds, Landmark Health, Click Software, Eventbrite, Metaswitch and many others. Francisco Partners provides flexible capital to help founders achieve their long-term goals, and also helps founders execute on strategy, scale operations, and finance acquisitions of their own.
"We find it rewarding to work with founders and further enable their entrepreneurial ambitions," said Dipanjan "DJ" Deb, Co-Founder and CEO of Francisco Partners. "We act as true partners, and we are proud of the sheer volume of founder-owned organizations that we have invested in over the last twenty years. The opportunity to collaborate closely with founders and make their visions into realities is special, and we love seeing their teams achieve their goals. We are thankful for all of our founder partners for allowing us to help them on their journeys, and eagerly await the opportunity to work with others in the future."
To compile the list, Inc. interviewed entrepreneurs who have partnered with private equity and venture capital firms.
About Francisco Partners
Francisco Partners is a leading global investment firm that specializes in partnering with technology and technology-enabled businesses. Since its launch over 20 years ago, Francisco Partners has invested in over 400 technology companies, making it one of the most active and longstanding investors in the technology industry. With approximately $45 billion in capital raised to date, the firm invests in opportunities where its deep sectoral knowledge and operational expertise can help companies realize their full potential. For more information on Francisco Partners, please visit www.franciscopartners.com.
About Inc.
The world's most trusted business-media brand, Inc. offers entrepreneurs the knowledge, tools, connections, and community they need to build great companies. Its award-winning multiplatform content reaches more than 50 million people each month across a variety of channels including websites, newsletters, social media, podcasts, and print. Its prestigious Inc. 5000 list, produced every year since 1982, analyzes company data to recognize the fastest-growing privately held businesses in the United States. The global recognition that comes with inclusion in the 5000 gives the founders of the best businesses an opportunity to engage with an exclusive community of their peers, and the credibility that helps them drive sales and recruit talent. The associated Inc. 5000 Conference is part of a highly acclaimed portfolio of bespoke events produced by Inc. For more information, visit www.inc.com.