Back To Media
Francisco Partners Expands Senior Operating Team with Key Hires
Press Releases — Oct 11, 2022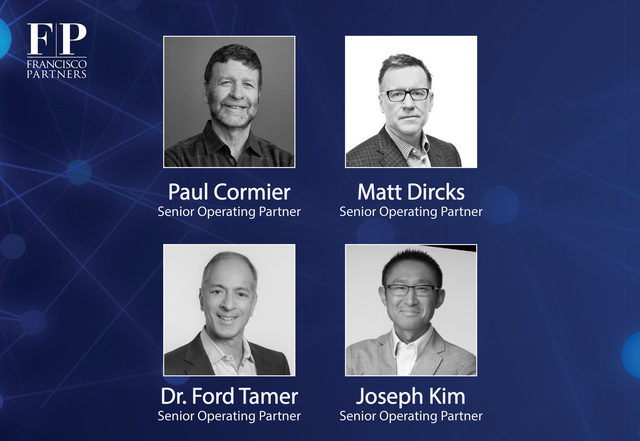 SAN FRANCISCO – Francisco Partners ("FP"), a leading global investment firm that specializes in partnering with technology businesses is excited to announce distinguished executives Paul Cormier, Matt Dircks, Joe Kim and Dr. Ford Tamer will be joining its operating team, Francisco Partners Consulting ("FPC"), as Senior Operating Partners. FPC now has over 40 operating executives that are providing value-creation support to FP portfolio companies.
"Our ability to work with portfolio companies has been a tremendous value driver for FP. Companies want to know that private equity firms can deliver resources to help assist management teams, make better decisions and drive better outcomes. Paul, Matt, Joe and Ford joining us is a testament to our commitment to delivering these capabilities," said Dipanjan "DJ" Deb, Co-Founder & CEO of Francisco Partners.
Paul Cormier, Chairman of Red Hat, continues in that role while also joining FPC as a Senior Operating Partner. Cormier became Red Hat's Chairman in July 2022 after most recently serving as the company's President and CEO.
In 21+ years at Red Hat, Paul has driven much of the company's open hybrid cloud strategy, playing an instrumental role in expanding Red Hat's portfolio to a full, modern IT stack based on open-source innovation. He has led efforts to introduce the company's enterprise subscription model, leading to the development of Red Hat Enterprise Linux, and pioneered a hybrid cloud platform that played an instrumental role in IBM's $34 billion acquisition of Red Hat in 2019. Paul is a graduate of Rochester Institute of Technology.
"I've spent my career helping enterprises consume innovation in a way that solves next-generation IT challenges," said Cormier. "I'm looking forward to helping to expand the capabilities within Francisco's Partners' successful infrastructure software investment portfolio, in addition to continuing my primary role as Chairman of Red Hat."
Matt Dircks joins FPC after serving almost nine years as CEO of BeyondTrust (f.k.a. Bomgar) and is currently serving as Executive Chairman. During Matt's tenure as CEO, he was responsible for growing BeyondTrust from a single product, on-premise vendor of IT remote support tools to a global market leader in privileged account management (PAM) and identity security.
Prior to BeyondTrust, Matt held executive leadership positions in several leading infrastructure technology firms including BMC Software, Citrix Systems, NetIQ and Quest Software. Dircks is a graduate of The University of Iowa and has established a scholarship to support women going into entrepreneurial/leadership programs.
"Having worked with FPC as an Operating Executive, I was struck by the humility and grounded nature of the team which complemented their ability to add value quickly across a range of situations. I am delighted to have the opportunity to join that same team and look forward to contributing back to the portfolio in the same manner," said Dircks.
Joe Kim joins FPC as an experienced CTO and General Manager with over 20 years of operating executive experience in the infrastructure, application and security software segments. Most recently, Joe served as Chief Product and Technical Officer for Citrix Systems where he was responsible for strategy, development and delivery of the company's $3.2 billion portfolio of products, technologies and solutions. He previously served as Global CTO and Head of Engineering at SolarWinds. Earlier in his career Joe held a broad range of roles at GE and at HP Enterprise. Across his roles, Joe has overseen numerous technical, strategic and operational transformations across scale businesses. Joe currently serves on the boards of SmartBear and Andela, is a member of the Innovation Advisory Council and a graduate of Marquette University.
"Having known the FP team for some time, it gives me great pleasure to join FPC to support their efforts in assisting businesses undergoing major transformation. I believe that strategic, technical and operational changes must all be managed jointly in a coherent and coordinated manner, and I look forward to supporting our portfolio companies on their respective value creation journeys," said Kim.
Dr. Ford Tamer is joining FPC after serving more than nine years as the President and CEO of Inphi. Ford transformed Inphi to become the market leader for semiconductor solutions for cloud and telecom operators, and increased revenue from these customers more than 20 times to an annual run rate of approximately $750 million. As a result, Inphi's stock price grew by more than 20 times, ultimately leading to a ~$10 billion acquisition by Marvell.
"After decades of running successful technology companies, I'm excited to join FP and help further build their industry-leading semiconductor and system initiatives," Dr. Tamer said. "In my interactions with their team, I was very impressed by Francisco Partner's value-add and strategic mindset in support of their portfolio companies."
In prior roles, Ford served as CEO of Telegent Systems, a Partner with Khosla Ventures and a SVP & GM of Broadcom's Infrastructure Networking Group, which he grew five-fold to $1.2 billion in revenue within five years. He also served as Co-Founder and CEO of Agere Inc., which pioneered Network Processors and was ultimately acquired by Lucent Microelectronics. Ford serves on the board of Marvell and Teradyne and holds an M.S. and Ph.D. in Engineering from MIT.
"Our portfolio company executives appreciate the fact that FPC is staffed with experienced operating executives who can assist them across the value creation spectrum," said Mike Kohlsdorf, President of FPC. "We are always looking to add great talent and we are delighted to have dynamic industry leaders like Matt, Joe, Ford and Paul join our team."
About Francisco Partners
Francisco Partners is a leading global investment firm that specializes in partnering with technology and technology-enabled businesses. Since its launch over 20 years ago, Francisco Partners has invested in over 400 technology companies, making it one of the most active and longstanding investors in the technology industry. With approximately $45 billion in capital raised to date, the firm invests in opportunities where its deep sectoral knowledge and operational expertise can help companies realize their full potential. For more information on Francisco Partners, please visit www.franciscopartners.com.
About Francisco Partners Consulting
Through its Operating Partners and Operating Advisors, Francisco Partners Consulting (FPC) provides operational consulting services to the private funds managed by Francisco Partners and to their portfolio companies. FPC's professionals are not employees of Francisco Partners Management. Francisco Partners Consulting is owned by its principals and is not an affiliate of Francisco Partners Management.
Media Contact
Whit Clay / Sarah Braunstein
[email protected] / [email protected]